Jurassic World: Dominion Dominates Fandom Wikis - The Loop
Play Sound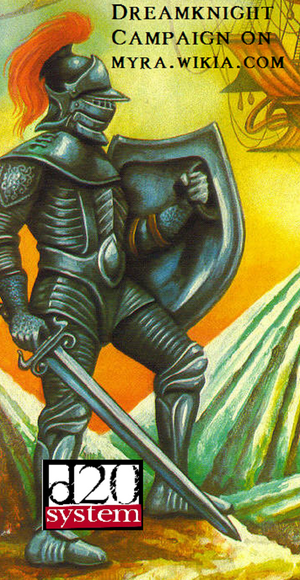 Part of the Myra Adventures Roleplaying Rules. (See the complete MYRA Wikia)
(As of June 2020 it is a work in progress and in an extensive playtest in official Myra Adventures, based on D&D 5e OGL with the Dreamknight as a new charakter class. Third group with a wide variety of Myra races starting April/May 2020 in Ashcaran on Gwynddor((You won't need to be able to read German to play.)) - Feel free to playtest in your other campaigns and please give feedback.)
Description
[
]
Dreamknights or are the oldest known order of knights in the world Myra (in older times called "Nightmareknights" - fighting Nightmares - see image right) and especially trained with sword and sorcery to fight against demons and demonkind, and the nightmares they produce.
Standard Races: Human, Elf, Half-Elf, Aegyr / On Gwynddor see List of Gwynddor Campaign Races.
Alignment: Good. Most will prefer order over chaos. Some deities will as patrons require that you are Lawful, but until you pick one of them you can be NG or CG, and start a bit away from LG.
Creating a Dreamknight
[
]
Roll your stats according to these rules or distribute 80 points.
For a novice among the Order of Dreamknights, the following stats are recommended
Either STR 12 OR INT 12, the latter especially if you join with a previous level of any magic using class.
CON 11
WIS 13
CHA 15
Minimum 6 for the other stats as a Novice, which would make 65 stat points and leave a lot of room for individual strengths and weaknesses if you have 80 or more points to distribute.
Ministration
[
]
Dreamknights serve no particular deity of Myra but serve the principle of light itself. The organised religion, i.e. higher priests of the philosophical idea of One God, who created the other gods, the AEne religion, is always working as superiors to Dreamknights and can always command obedience.
Dreamknight governments as superiors: There are a select few coutries and states which are governed by dreamknights and have one of the master circles of the order in their center. Following these governments and their representatives is also a requirement of the order. These governments are ruled by the High Knights of the order on their continent, aswerably only to the Master Knight in the home of the order on Kaurias, and orders of an agent of the government are to be treated as orders from a superior, because ultimately they come from a High Knight.
Before a Dreamknight can use a certain ability bestowed upon by one of the old gods of the Pantheon, he must either
perform an act of valor for a temple of the deity or
visit one of the Major Temples of the deity or
decide for a new patron and follow its rules for one year before getting the benefits or
be introduced by a higher level follower of the same order.
Thereafter, priests of that religion, if they are of a higher level than the Dreamknight, also serve as his superiors and their orders must always be followed. Contradicting orders can become quite a major restriction.
Role
[
]
Traveling on adventures if not on a mission by a superior or on a dream-quest, Dreamknights will aid any group of adventurers which are likely to fight demons, demonic magic or the like.
Symbol
[
]
Sword & Sorcery - the symbol is a sword and a magic wand, crossed. The sigil ring with this symbol is gifted to a person in level 9 and loaned to a group as a passport on longer away missions. Dreamknights who wear the typical full black armour (black plate armour given by the order at Lv.9, just as black chain mail is at lv.5 and black leather armour at lv.1) will probably be recognized without any further symbol.
Weapon proficiencies
[
]
Culturally, all Dreamknights will have learned- or will have to learn as soon as they are accepted into the order - the use of the longsword, in addition to a weapon of their choice.

Ruleswise, you are proficient with all armor and shields, simple weapons and martial weapons, not all of which you can master and carry at once.
Proficiency bonus goes up like for the paladin: in Tier1 it's 2, in Tier2 it's 3... (PHB p.83)
Saving throws: go on Wisdom and Charisma
Nonweapon proficiencies
[
]
Culturally, all Dreamknights will have learned- or will have to learn as soon as they are accepted into the order - about the use of magic (Arcana), before they can enjoy the benefits of a patron deity. Therefore

Skills: Arcana and any one of Athletics, Insight, Intimidation, Medicine, Persuasion and Religion.
Armor/Equipment
[
]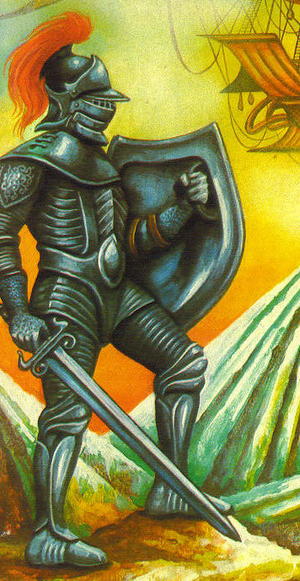 All Dreamknights with sufficient means or support will have (at least own, not always wear) full black armour, with a hallmark red tassel on their helmet, a longsword and the shield with its recognizeable form. In order to get from one place to the next, Dreamknights will have a mount, usually a horse. You get from the order
A shield (AC+2) plus Studded Leather armor (AC12) in level 1-4, Ring or Chain mail in level 5-8 (AC14/16) and full plate from level 9 (AC18)
A longsword or equivalent as your martial weapon
A short bow or small crossbow or any simple melee weapon
A priest's pack or an explorer's pack
A standard mount, usually a horse, while on a mission
A holy symbol of your first patron deity
All Dreamknights from level 9 will have their sigil ring - except in the rare cases when they have given this away in order to enable safe summoning in dream state.
Class Features: Special Benefits
[
]
After learning the use of a longsword and about the use of magic (arcana), Dreamknights, who have none of the automatic benefits of regular paladins, can go and choose one patron deity per level, which can grant one favour or ability as a special benefit each, up to a maximum number of deities equivalent to the one highest score in a Paladin's minimum requirements; often this will be Charisma.
In order to gain one of the deities of light as a patron, a Dreamknight must perform a greater service for a small temple or higher priest - a Geas Quest - or make a Pilgrimage to one of the high temples - of that religion, or have a higher dignitary of that deity introduce them with a ritual. If a Dreamknight novice has been a priest, druid, or paladin of one of these deities before becoming a Dreamknight, the novice can choose to automatically get this deity as the first patron without having to do a quest.
Class Features by Patron deity - you pick one per level
[
]
Listed below are permanent favours - as permanent as the Dreamknight stays within the favour of the patron deity (loose grace, loose, the bonus, atonement possible as per rules).