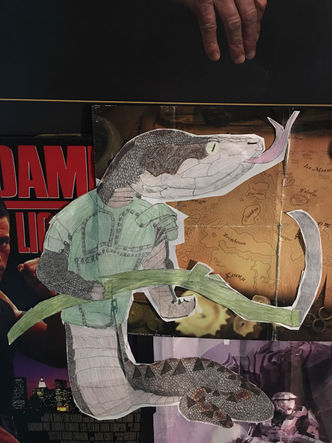 I got sent to several schools over the case of misunderstanding-math-but-I-was-still-placed-in-a-special-education-classroom and therefor only ever really have been interested in the barbarian aspect to role-playing as games, medieviality as stratagem to those games and slaying mages to figure out it all for dragon hunting. That eventually led me to try being a Sword Hunter because of the pokemon card game; I just didn't like the smart kids trying to overpower me and not be actual opponents, or me actually being a knucklehead, bonehead, or knight in turn by getting a fight. I went skateboarding, never quit (it's been 15+ years, and 7 of those years were self taught, the rest must be traversing around with the diligence of liking how the others taught me) and am finally returning to the skate park after having quit partying at 23 (now I'm 27)[11/10/2019.]
I've gotten ahold of the Palladium Rifts RPG, though. I did the Mercenary Adventures SOURCEBOOK's Boot Camp- to see about that Cyber Knight thing I read within after fately acquiring "Rifts Mercenaries" and then had to destroy my Boot-Camp chronicling, and the Cyber-Knight book brought me back to reality. So I'll just be using my Malayan Pit Viper to slay Dragonborn, solo-quests/D&D modules as a Master Burglar, and do Pathfinder to take that 6 book Kingdom Quest.
I am Sebastian, I edit Fandom Wiki's from small-time-wonders like the Dragonology Fandom Wiki, to middle-class Fandom Wiki's like: United States Fandom Wiki, Rsroleplay Fandom Wiki, and the Skateboarding Fandom Wiki. To the even greater Fandom Wiki's like Halo's Fandom Wiki.
I maintain Snake Wiki, am a Bureaucrat for Deadpool Wiki and have even Founded Billiards Wiki & the HaloProtocol Fandom Wiki. I like to skateboard, train in swordsmanship, and get buff. I'm Polish, North American, with interests in motorcycles, ball rooms and just noble class stuff. I have a Malayan Pit Viper animal herald for Role-Playing; I trained in role-playing during my schooling and decided the best tactical option to enhance my experience and to never give up on myself is to create a family crest/sigil- that being those spirit animals people earn through Martial Arts and barbarianism.
My role-playing viper's race is called "Zmija", and it's kingdom is separate from the fantasy enthused kingdoms with humans. But I still do quests from the Dungeons & Dragons books/Pathfinder books (as well as, if I want, other roleplaying books) to train myself in hyper-lethal vectors, weapon mastery dexterity, as well as dragon hunting. It's a separate channel on my DISCORD; it teaches me how to stay primeval and not pretend magic(k) is good.
Community content is available under
CC-BY-SA
unless otherwise noted.